I was thrilled and honored that my first ever design submission was accepted and published in the latest issue of Twist Collective!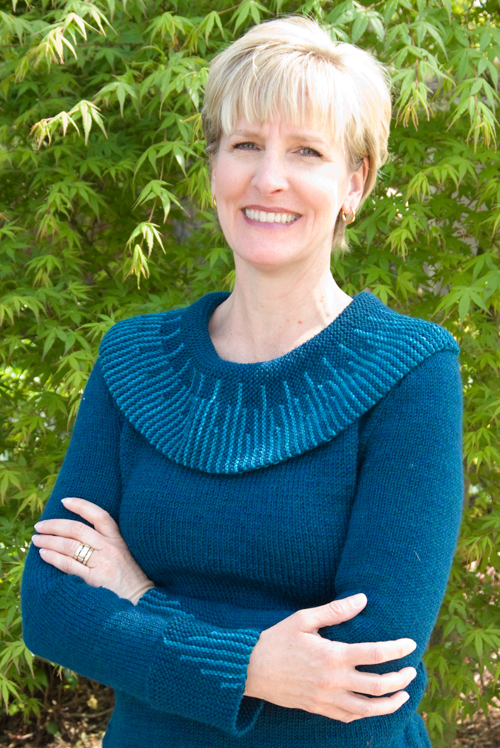 The seed of the idea behind Chambord was a stitch pattern in a scarf that used short rows with two colors of yarn.  I loved how with short rows, you could easily incorporate two yarns without stranded knitting and even without wraps and turns.  Looking at the simple stitch pattern, I played with how could I use it for a sweater.  I thought the best placement would be around the neck, and I created a simple cowl.  The first try with the short rows created a three dimensional fabric that nicely falls around the shoulders.
When Kate Gilbert first emailed me, she asked me if I would turn the cowl into a boat neck.  That same evening, I took out the very simple seaming for the neckline, and draped it on my dress form as a boat neck.  I loved the simple modification because the back and fronts could be identical, which provided a nice symmetrical feeling to the sweater, and the back is as dramatic as the front.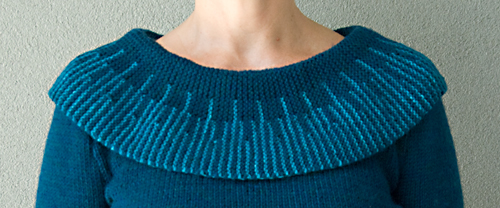 The big challenge in designing Chambord was creating a matching sleeve detail.  The short rows easily made the collar wider around the edge for a nice drape but created a challenge for the cuffs.  I did not want the sweater to have bell sleeves as they often get in the way of daily tasks.  I created three rejected samples before I discovered the solution.  I could mimic the shaping of the short rows with reverse darts on the back of the cuff using the main color!
Because Chambord is designed to be close fitting, I offer three different versions of shaping on the body:  straight, waist shaping, and also bust darts in four different heights applicable to all sizes.   The design is offered in 10 sizes from 32" / 81.5cm to 50 ½" / 128 cm.
For color selection, I would simply recommend that the two colors have sufficient contrast.  The contrast could be with two different colors or the same color but one color be a light version, the second a dark.  A variegated yarn could also be used for the contrast color as long as it does not contain long repeats of color that blend too much with the main color.
I hope you enjoy the sweater and the other great designs in Twist Collective.  You can find the pattern page with purchase information here.